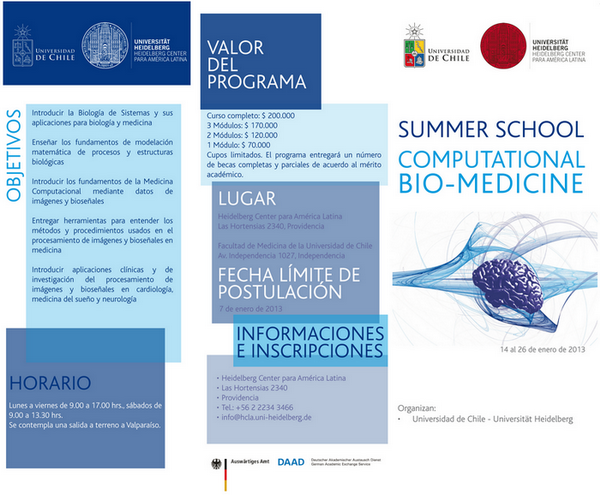 14 al 26 de enero de 2013 – Santiago – Chile
ORGANIZACIÓN DEL PROGRAMA
La Summer School cuenta con un total de 176 horas, de las cuales 50 horas son presenciales, incluyendo 4 exámenes. Las clases se realizarán durante dos semanas durante todo el día. También es posible solo asistir a algunos módulos, para compatibilizar la Summer School con actividades laborales. Los módulos serán dictados en inglés o castellano.
DIRIGIDO A
Profesionales del área de la salud, biomedicina, computación y matemáticas, así como a científicos y estudiantes interesados en este campo interdisciplinario.
OBJETIVOS
Introducir la Biología de Sistemas y sus aplicaciones para biología y medicina. Enseñar los fundamentos de modelación matemática de procesos y estructuras biológicas. Introducir los fundamentos de la Medicina Computacional mediante datos de imágenes y bioseñales. Facultar a los participantes a entender los métodos y procedimientos usados en el procesamiento de imágenes y bioseñales en medicina. Introducir aplicaciones clínicas y de investigación del procesamiento de imágenes y bioseñales en cardiología, medicina del sueño, y neurología.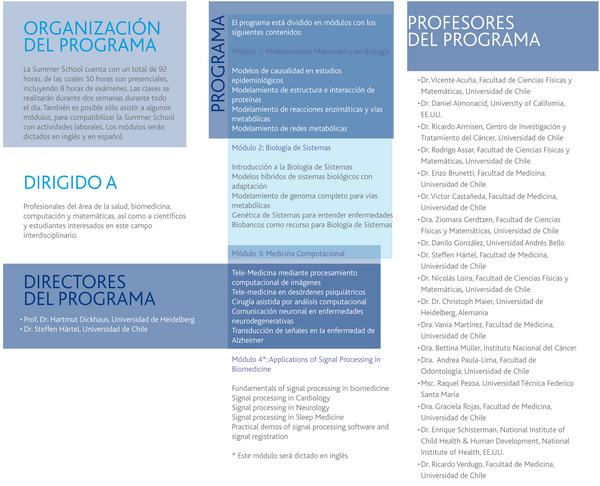 HORARIO
Lunes – Viernes: 9.00 – 17.00. Sábado: 9:00 – 13:30.
Se contempla una visita Valparaíso.
CALENDARIO ACTIVIDADES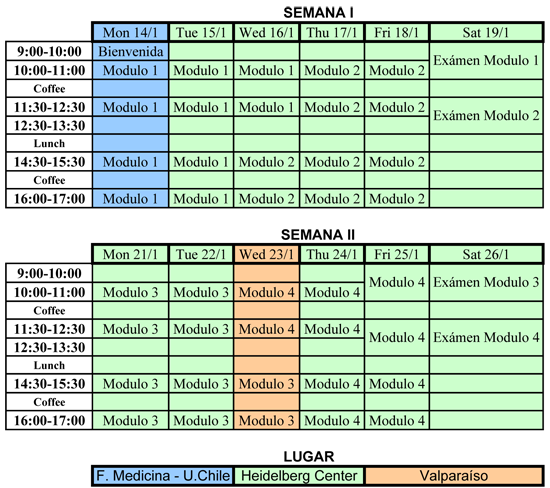 PROGRAMA
Módulo 1: Modelamiento Matemático en Biología
Modelos de causalidad en estudios epidemiológicos
Modelamiento de estructura e interacción de proteínas
Modelamiento de reacciones enzimáticas y vías metabólicas
Modelamiento de redes metabólicas
Módulo 2: Biología de Sistemas
Introducción a la Biología de Sistemas
Modelos híbridos de sistemas biológicos con adaptación
Modelamiento de genoma completo para vías metabólicas
Genética de Sistemas para entender enfermedades
Biobancos como recurso para Biología de Sistemas
Módulo 3: Medicina Computacional
Tele-Medicina mediante procesamiento computacional de imágenes
Tele-medicina en desórdenes psiquiátricos
Cirugía asistida por análisis computacional
Comunicación neuronal en enfermedades neurodegenerativas
Transducción de señales en la enfermedad de Alzheimer
Módulo 4: Applications of Signal Processing in Biomedicine Fundamentals of Signal Processing in Biomedicine Signal processing in Cardiology Signal processing in Neurology Signal processing in Sleep Medicine Practical demos of signal processing software and signal registration (Este módulo será en enseñado Inglés)
PROFESORES DEL PROGRAMA
Dr. Vicente Acuña (FCFM, U-Chile)
Dr. Daniel Almonacid (CBIB, U-Andres Bello)
Dr. Ricardo Armisen (CITC, FMed, U-Chile)
Dr. Rodrigo Assar (FCFM, U-Chile)
Dr. Enzo Brunetti (BNI, FMed, U-Chile)
Dr. Víctor Castañeda (BNI, FMed, U-Chile)
Dra. Ziomara Gerdtzen (FCFM, U-Chile)
Dr. Danilo Gonzalez Nilo (CBIB, U-Andres Bello)
Dr. Steffen Härtel (BNI, FMed, U-Chile)
Dr. Nicolas Loira (FCFM, U-Chile)
Dr. Christoph Maier (U-Heidelberg)
Dra. Vania Martínez (FMed, U-Chile)
Dra. Bettina Müller (INC)
Dra. Andrea Paula-Lima (FOUCH, U-Chile)
MSc. Raquel Pezoa (UTFSM)
Dra. Graciela Rojas (FMed, U-Chile)
Dr. Enrique Schisterman (NICHD-NIH)
Dr. Ricardo Verdugo (FMed, U-Chile)
INSTITUCIONES
CITC: Centro de Investigación y Tratamiento del Cáncer , Universidad de Chile
FCFM: Facultad de Ciencias Físicas y Matemáticas, Universidad de Chile
FMed: Facultad de Medicina, Universidad de Chile
FOUCH: Facultad de Odontología, Universidad de Chile
INC: Instituto Nacional del Cáncer
NICHD-NIH: National Institute of Child Health and Human Development, National Institutes of Health
UAB: Universidad Andrés Bello
UCSF: University of California, San Francisco
UTFSM: Universidad Técnica Federico Santa María
UH: Universität Heidelberg
LUGAR DONDE SE DICTARA EL CURSO
Heidelberg Center para América Latina
Las Hortensias 2340, Providencia
Facultad de Medicina de la Universidad de Chile
Av. Independencia 1027, Independencia.
BECAS E INFORMACIONES
Cupos limitados. El programa entregará un número de becas completas y parciales de acuerdo al mérito académico. Para postular enviar CV, Carta de intención y Carta de referencia a Johanna Höhl, Ricardo Verdugo y Steffen Härtel
Heidelberg Center para América Latina
Las Hortensias 2340
Providencia
Tel.: +56 2 2234 3466
info@hcla.uni-heidelberg.de
Facultad de Medicina
Universidad de Chile
Independencia 1027
Santiago, Chile
INFORMACION EXTRA
Ficha de Inscripción PDF Document. Word